We would like to invite you all to attend the 8th FARO Webinar this month, organized by MOS.
The 8th FARO Webinar:
Title: Value-Based Medicine in Radiotherapy
Time & Date: 18.00 (Kuala Lumpur, GMT+8); Friday July 30th 2021
Speaker: Paul Cornes, UK
Panelists: Fuad Ismail, Malaysia; Golam Faruquel, Bangladesh; Soehartati Gondhowiardjo, Indonesia
Registration: bit.ly/IROSROOM24
Kindly distribute the information to your colleagues and societies. We look forward to be welcoming and connecting with you all on the event. Thank you very much for your continued collaborations.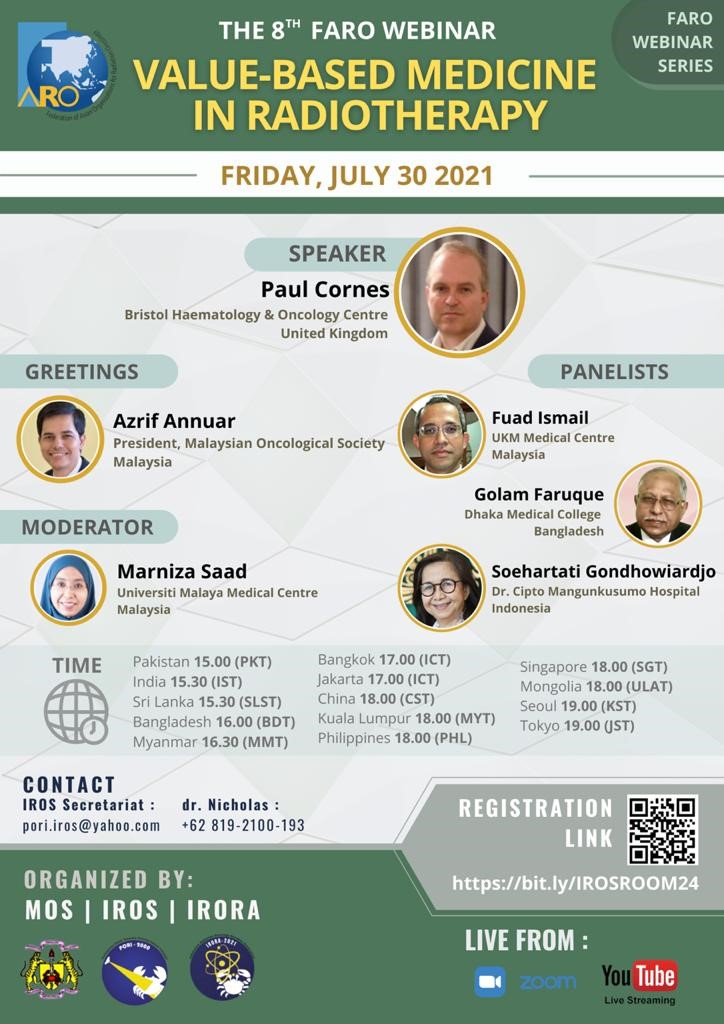 Regards,
Mayang
On behalf of
Prof. Soehartati Gondhowiardjo
President, IROS
IROS – IRORA Team for FARO Webinars
————————————————————-
dr. Tiara Bunga Mayang Permata, MARS, PhD, Sp.Onk.Rad
Department of Radiation Oncology,
dr. Cipto Mangunkusumo National General Hospital (RSCM)/ Faculty of Medicine Universitas Indonesia (FKUI), Jakarta, Indonesia
L-PhD graduate, Heavy Ion Therapy Leading Programme, Gunma University, Maebashi, Japan