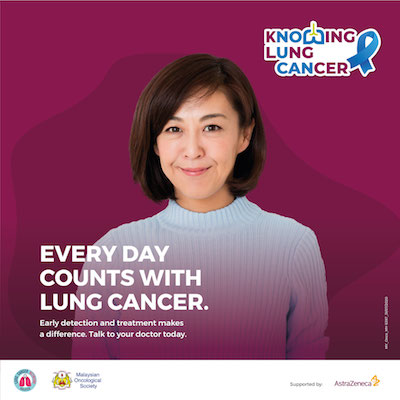 Lung cancer does not discriminate. You could be young, at the height of your career, raising your children at home, a non-smoker. And still be affected by lung cancer.
20% of people with lung cancer are non-smokers in urban Asian communities. In this group, there are more women than men.
You may think that you know enough about #lungcancer, but there are still a lot of myths and misconceptions to address.
That is why we have teamed up with Lung Cancer Network Malaysia, with the support of AstraZeneca Malaysia, to launch the #KnowingLungCancer campaign to educate Malaysians about the disease.
We're proud to have launched it over the weekend, in conjunction with #WorldLungCancerDay.
Follow us on Facebook and Instagram for more educational content on lung cancer.
Let's come together and create better awareness on lung cancer.
#KnowingLungCancer #nowucan #lungcancerawareness #lungcancersupport #LCNMalaysia #malaysianoncologicalsociety

Source: https://www.healthxchange.sg/cancer/lung-cancer/lung-cancer-asian-female-non-smokers-at-risk