memo inOncology Special Issue ASCO 2019 report – now available!
Highlights of this report include promising (neo)adjuvant approaches for early-stage NSCLC, novel first-line options for EGFR-mutant lung cancer as well as trial updates and new biomarkers in the field of immunotherapy. Additionally, we provide you with a summary on the improvements for the treatment of small-cell tumors in the second-line setting and discuss the significance of the expansion of clinical trial enrollment criteria. One particular highlight is an interview with Rafal Dziadziuszko on blood-based testing in ALK-positive disease.
The memo inOncology Special Issue report is produced by Springer, as a supplement of memo (the Magazine of European Medical Oncology) and sponsored by Boehringer Ingelheim with an unrestricted educational grant. For more information on the memo inOncology Special Issue series, and for free access to all previous editions, visit the memo-inOncology website.
Access an article directly: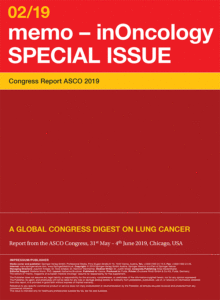 Download the full report (English)