A selection of the 'Best of Congress' sessions is out!
UICC is making a curated selection of the most sought-after session recordings from the World Cancer Congress 2022 available to the general public on its UICC YouTube channel. This selection reflects the quality and diversity of the World Cancer Congress 2022 programme.
The Congress platform closes soon!
Only two weeks remain for registered Congress participants to access over 160 session recordings and to network with peers on the World Cancer Congress online platform. It will close on 31 December 2022, so make the most of its content and functionalities before it's too late!
Dive back into the spirit of the Congress!
What the health community will be discussing at the World Cancer Congress 2022
The programme of the World Cancer Congress 2022 should prove to be stronger and richer than ever before. Designed by a team of renowned experts from a wide range of fields and different corners of the world, it will offer new perspectives on issues essential to cancer control. It will also allow participants to witness high-level debates on trend topics such as the generational smoking ban enacted in New Zealand or the right to medically assisted suicide for end-of-life cancer patients.
Highlights of the programme include:
Advances in cancer screening, diagnostics and treatment, including vaccines, immunotherapy, artificial intelligence and precision medicine
Abstract-led sessions showcasing implementation science
The threat of antimicrobial resistance for cancer patients, the need for infection control and the rational use of drugs
The right to assisted dying – approaches and cultural contexts
Tobacco control – countering industry influence, regulating new products such as e-cigarettes, discussions on the "generational ban" implemented notably in New Zealand, in the presence of the Associate Minister of Health of New Zealand, Dr Ayesha Verrall
Improving access to cancer medicines in low-income regions
The impact of COVID-19
Advances in Universal Health Coverage and cancer control
Hearing from people living with cancer – breaking the taboo around cancer and sexuality, and multidisciplinary survivorship care
Browse the full programme here.
Meet our speakers 
Connect at the World Cancer Congress with leaders and experts from a wide range of fields in global health and cancer control. The list is updated regularly as more speakers confirm their attendance.
"COVID-19 has had an unprecedented and devastating effect on health systems and research programmes worldwide. The pandemic has highlighted major vulnerabilities in cancer control planning leaving hospitals with patient backlogs of a scale and size never seen before, and many research projects and collaborations underfunded, stalled, fragmented, or cancelled. How we recover from this will need a Herculean global effort and this Highlight Session will be essential listening to learn what is needed for a successful recovery over the decade ahead."
David Collingridge and Lisa Stevens, co-chairs of the Cancer research & progress theme
Discover the 2022 programme here.
International organisations teaming up for the World Cancer Congress
We are pleased to announce that the 2022 World Cancer Congress will be held in cooperation with the World Health Organization (WHO), the International Agency for Research on Cancer (IARC) and the International Atomic Energy Agency (IAEA), taking place in Geneva on 18-20 October.
We invite you to listen to a short message from Dr Bente Mikkelsen, Director of Noncommunicable Diseases at WHO, who explains why it is more important than ever for the cancer community to reunite and renew progress in cancer control after the disruptions to health services due to the COVID-19 pandemic.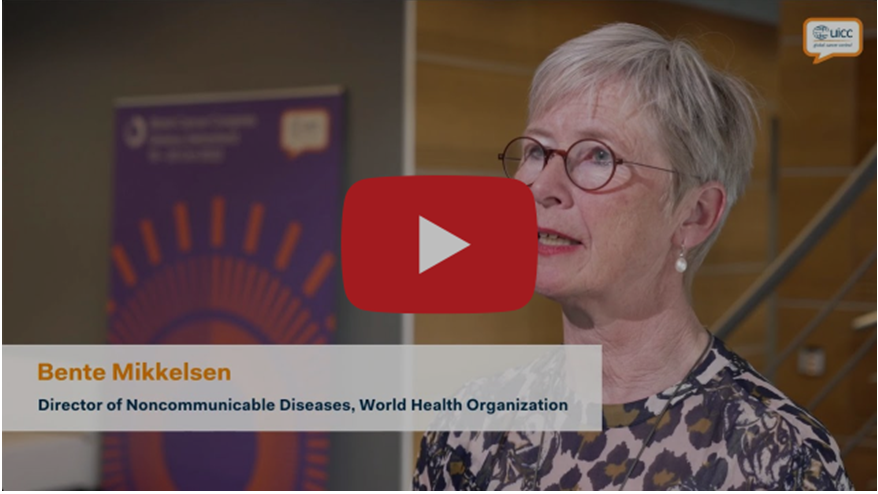 The Congress is a unique opportunity to meet and exchange with cancer leaders and experts from around the world, supporting you in influencing policy at national, regional and global levels.
The new cinema programme at the congress
Take part in the World Cancer Congress programme by submitting a film, animation, documentary or campaign video clip. The call for films is open until 30 June 2022. Read full guidelines.
Benefit from a group rate and host an exhibit
Empower your organisation and boost your networking opportunities and connect more easily with other cancer leaders by registering a group at a preferred rate or by hosting an exhibit in the global village. To find out more, contact us here.
Plenary sessions 
Details about the topics of the plenary sessions are now available. Find out more about the programme here.
On the road to the 2022 World Cancer Congress – see who is coming
Preparations for the 2022 World Cancer Congress are well underway, with experts and leaders from 80 different countries having already confirmed their presence.
On the road to the Congress, we invite you to hear from Prof. Pierre-Yves Dietrich from the Department of Oncology at the Geneva University Hospitals, who is co-leading the Congress programme as one of the most influential leaders in Switzerland in driving progress in cancer control. Here he explains why the World Cancer Congress is the ideal platform for the cancer community to collaborate and why it is important to attend.
Find out more about the preliminary programme here.
Be amongst the first 300 to register and save up to 50%. Only a few spots left!
How to get engaged
Abstracts submission until 14 April
You have only a few days to submit your work and compete for a chance to win an award. Read full guidelines here.
Cinema submissions are now open
Submit your film, animation, documentary or campaign video clip, and showcase your work in the Congress Cinema. Learn more.
New leaders' offer
A complementary leaders' centric programme has been specifically crafted to convene the most influential decision-makers in public health. Read more.
Hear from Kalina Duncan: What is the priority in cancer control for the US National Cancer Institute in 2022? 

Submit your abstract until 15 April
Submit your work and join hundreds of other experts in discussions to advance cancer control.
Top-ranked abstract authors will be recognized for their achievements at the UICC Awards.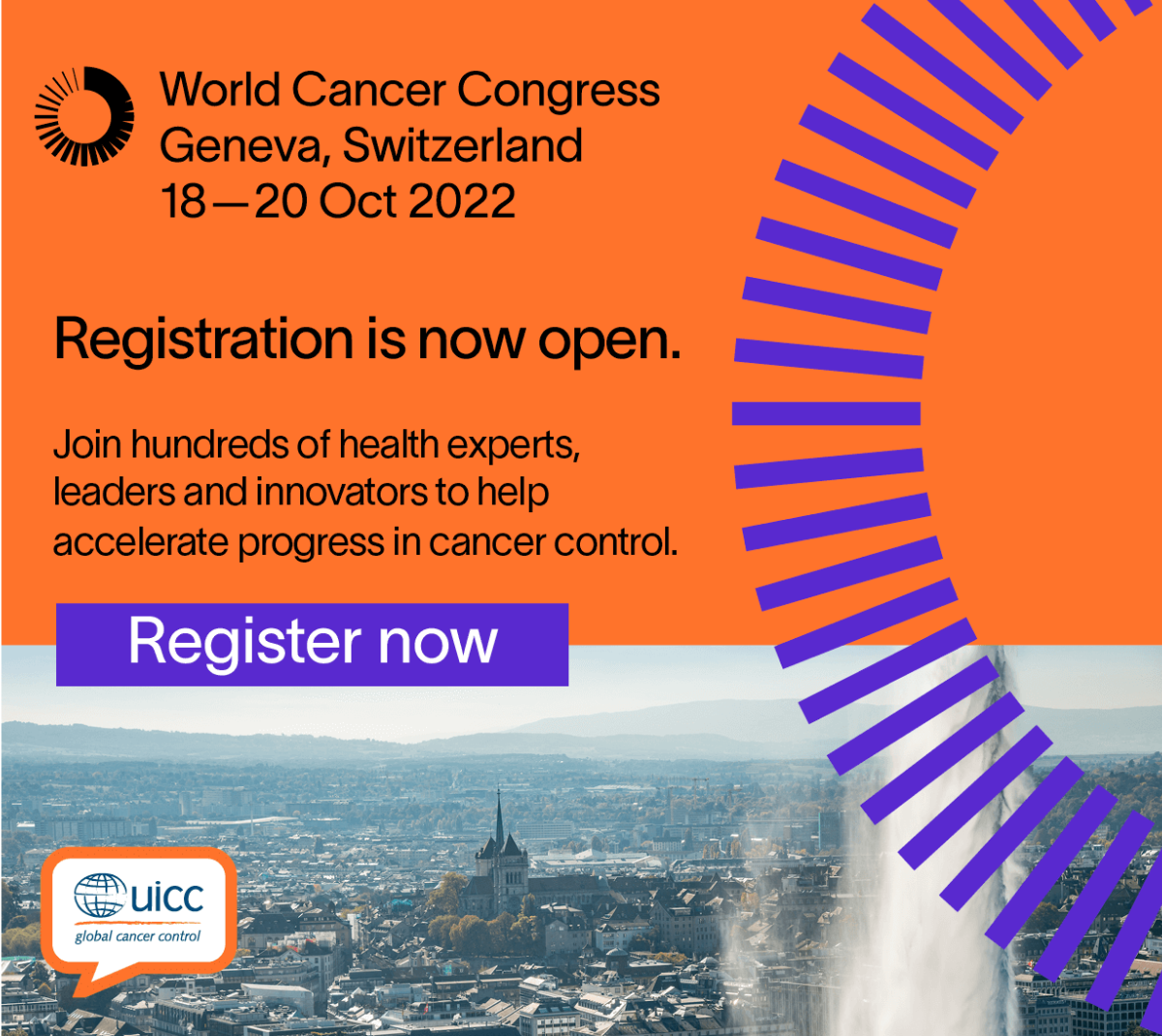 Presenting at the Congress is an excellent opportunity to showcase your achievements and the ones of your organisation. If you have developed work in advocacy, fundraising, science or research on any aspect of cancer control, this is your chance to present your findings and efforts to an audience from over 130 countries.
SUBMIT YOUR ABSTRACT
Reasons to submit an abstract
Have an active role in the programme
Help advance the global fight against cancer by sharing your expertise
Connect with peers and gain new perspectives to take home
Spark new collaborations which could allow you to take your work to the next level
Have your abstract included in a rich eLibrary available on the Congress online platform
Compete for a UICC award on a global stage
We look forward to receiving your contribution in the coming days. To read the full guidelines, go here.
And more…
You can also register at a preferred rate – the first 300 participants to register can save up to 50%.
REGISTER NOW
Follow updates to the programme – new sessions are added weekly!
DISCOVER THE PRELIMINARY PROGRAMME
World Cancer Congress returns, for the first time since 2018! At a time of heightened uncertainty and unrest, there is an ever-greater need for the cancer community to unite in support of people living with cancer, caregivers and all those working to reduce the burden of cancer around the globe.
At the 2022 World Cancer Congress, you will have the opportunity to connect with global cancer leaders, foster collaborations with peers and meet renowned experts in all areas of cancer control.
The diverse programme will provide you with insights, tools and best practices across six themes. It will combine in-person and digital elements hosted on a dedicated online platform.
A complementary leaders' programme has been specifically crafted to convene the most influential decision makers in public health. More here.
Be amongst the first 300 to register and benefit from a discount of up to 50%.
Call for abstracts until 15 April
Play an active role at the Congress by submitting your abstract or report.
You will be able to show your work to a global audience and have the chance to win one of the UICC awards.
Follow updates to the programme – new sessions are added weekly!