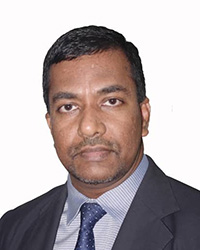 Dr Muthukkumaran Thiagarajan
Honorary President, MOS 2022-2024
Welcome to the Malaysian Oncological Society!
This society was formed in 1976 to promote and advance the practice of oncology in Malaysia. Our main activities are organizing oncology meetings, conferences and workshops to disseminate and promote evidence based oncology among our members, support research in cancer in Malaysia and to collaborate with other societies and organizations to raise cancer awareness among the public.
We also work in partnership with international cancer societies such as UICC, SEAROG, FARO, IAEA and ESMO for continuing medical education activities, clinical practice guidelines and cancer control initiatives. Every year, we provide educational grants to our members to attend international conferences.
We have formed the Chapter of Oncology in the Academy of Medicine Malaysia with the aim of establishing a College of Oncology to further advance our specialty. I strongly encourage all oncologists to become members of the Academy of Medicine Malaysia to help us achieve this aim.
The burden of cancer in Malaysia will only increase further over the next decade and all of us need to work together to help our patients and society face this challenge.